Chatfield Private Client Limited started trading in July 2010 so we are proud to reach our tenth birthday, even if social distancing means we aren't rushing to the bar to celebrate!
We've learned a huge amount in the last decade. It's equally fascinating what the next decade will bring and what has and hasn't stood the test of time.
In our early days, we put together a mood board to get ideas flowing about what we stood for. We took a photograph of it and have recently looked back at it and reminisced.
In 2010, some of the brands we identified with were Aston Martin, BMW, Mercedes, Jaguar, Breitling, Tag Heuer, Apple, Barbour, and Galvin Green. I'm not sure how much longer Aston Martin and Jaguar will last but Apple has certainly gone from strength to strength.
Apple makes me think of a Charles Mingus quote we put in the centre of our mood board: "Making the simple complicated is commonplace; making the complicated simple, awesomely simple, that's creativity".
We also had five Carl Richards sketches on the mood board, the best one of which, shown below, (I think) is inspired by ancient Greek stoic philosophy, made it onto our website's homepage and is in a frame in our meeting room: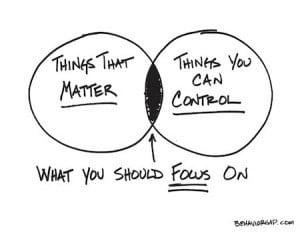 We've been talking about this sketch for years; see my previous blog here from September 2014.
In summary, in 2010 we stood for simplicity, creativity, sound decision making and above all the highest quality.
Ten years later, what has stood the test of time? If we were to do a 2020 mood board, we would still put Apple on there. The only other car manufacturer we would put on there is Tesla. We would also keep all the Carl Richards sketches. Apple was founded in 1976, Tesla only in 2003 but 2,500 years of philosophy is as relevant today as ever and we often quote and explain the above sketch to clients.
Apple and Tesla are neither the first nor the only companies in their respective fields, but they are beautifully disruptive, simple, creative and of the highest quality.
We are strong advocates of the equivalent disruptors of Apple and Tesla in personal finance, notably Transact, Dimensional and Vanguard. But superseding such financial 'hardware' is a deep, ancient understanding and application of human behaviour.
It doesn't matter how good your investments or tax planning is if your financial behaviour is poor; if you can't live within your means; if you can't keep your investment head when all about you are losing theirs; if you never get round to doing your Will; if you can't make good financial decisions time after time after time.
That is one thing that will never change and one we will keep focussing on relentlessly – human nature and helping clients make good financial decisions. Apple, Tesla, Transact, Dimensional and Vanguard may well be overtaken by the disruptors of tomorrow but us fallible human beings will always need help making unemotional decisions about the future.
I am confident the above sketch about focussing on what you can control will still be on our mood board in 2030. I think Apple and Tesla will too. I wonder what else will be…?